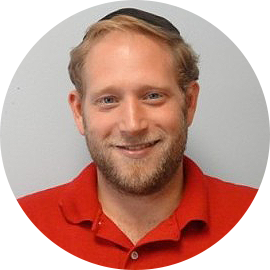 Rabbi Yehoshua Gold
Camp Director
Rabbi Yehoshua Gold is the director of Camp Shalom. He is originally from Los Angeles, CA, detoured to Baltimore, MD, and ended up in Far Rockaway, NY. He began his camp administrative career by directing the LIJ Summer Partnership based in Camp Simcha in Far Rockaway, NY. He continued on to the JCC on the Palisades, running the Barak division. He then took over as director of Camp Shalom in 2007. During the school year, Rabbi Gold is the Associate Director of the Maor Yeshiva High School, a division of The Sinai Schools. He currently lives in Teaneck, NJ with his wife Leah, sons Yosi, Tzvi, and Azi, and daughter Sari. Rabbi Gold is committed to providing an outstanding camping experience based on Torah values. He looks forward to many more amazing summers at Camp Shalom.
---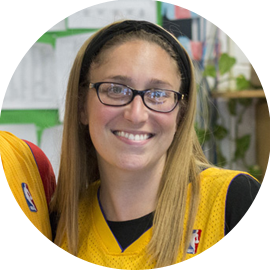 Leah Gold
Head of Specialists and Programming Director
Leah is in charge of all of the specialists and programming in camp. Aside from being married to Rabbi Gold, Leah brings a tremendous amount of camping and education experience to Camp Shalom. Leah ran a special needs program at the JCC on the Palisades for over 10 years. She also teaches Kindergarten at Yavneh Academy. Leah's creativity, energy, and excitement for camp will help ensure that all of the Shalom campers have an amazing summer!
---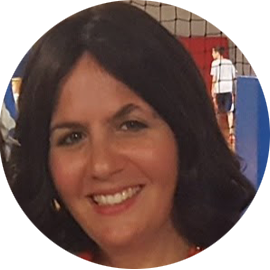 Sassy Hanauer
Behavior Specialist
Sassy has a Masters degree in early childhood general and special ed from Hunter College. She spent the first several years of her career working as a SEIT and in Early Intervention, working with students needing additional supports in a general ed setting, and helping their teachers to best serve those students. For the past 2 years, she has worked for the NYC Department of Education as a special ed elementary school teacher, working with students from very low socio-economic backgrounds.Sassy specializes in behavior management and working with the child to help them reach their best potential.
---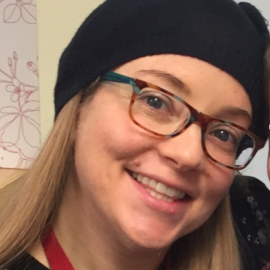 Varda Berkson
Office Manager
Hi, my name is Varda Berkson and I'm back for my third summer with Camp Shalom! Working in the office this summer, I can't wait to greet you on the phone and/or in person! I'll be here to help make sure camp runs smoothly.

When not wearing my Camp Shalom t-shirt, I'm a middle school teacher at Yavneh Academy in Paramus. I have been in formal and informal education for almost 20 years and I am trained as a learning specialist.

And, in those moments when not at work, I get to spend my time with my husband and three great kids!

---
Carolyn Stein
Head of Aquatics
I am Carolyn Stein. I began working in Camp Shalom the day after I moved to Passaic. I have been here at Camp Shalom for 14 summers. I love working at the pool and teaching campers not just to swim and be safe, but to trust the water. My two older children learned to swim here and have since become lifeguards and instructors - I guess you can say it's in our blood. We have an excellent swimming program here at Camp Shalom, one I am very proud to be a part of.

If I wasn't an educator, I would be stuck at home cleaning and organizing....There's a reason I teach ;)
My favorite Camp Shalom memory is seeing a camper's face light up when he/she realized swimming was possible.
One thing I cannot deal with is .....not being able to swim in the summer.
---
Levi Goldberg
Head of Boys Sports
Playing baseball in little league was miserable for me. I was the kid that the coach would play in far right field. Camp is a way for kids to have fun playing sports in a relaxed setting.

I always wanted to learn to play the game, once I did it gave me a great feeling of satisfaction and confidence!

Over the past ten years I have coached baseball and soccer in Teaneck. In their recreational leagues as well as travel leagues.

Looking forward to a safe and fun summer!
---
Yael Pittinsky
Hot Lunch Coordinator
My name is Yael Pittinsky and Summer 2016 will be my 23rd summer working at Camp Shalom! Over the years I have done many different jobs at camp. I have six children and I live in Passaic. My children all have been campers and some have worked in camp as counselors. Just like the children I look can't wait for camp to start!

If I wasn't an educator, I would be a therapist.
My favorite Camp Shalom memory is watching the campers grow up and become staff members.
Camp Shalom to me means friendships! Even as an adult there is nothing like a camp friend!

---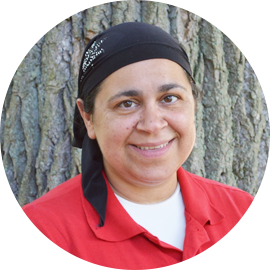 Sara Ringer
Rishon Unit Head
Sara Ringer graduated from NYU with a masters in Parent Education and child psychology. She is a preschool teacher for 3 year olds who loves her job! She enjoys spending time with her children whether ar school or at home. Sara and her children have had the pleasure of having Camp Shalom as their second home for over 9 years!

My favorite Camp Shalom memory is racing around the building looking for a wheelchair when one of our counselors fainted...and everyone thought I had taken it from an elderly person!

Camp Shalom means our favorite transition from school to the summer. My children can't wait to get ready for camp to have fun and connect to those friends they haven't seen since last summer.

My secret skill is maintaining a positive attitude while helping the children and the counselors. Because this is camp and it's supposed to be fun!
---
Ilissa Green
Sheini Girls Unit Head
Ilissa Green, originally from Brooklyn, NY has been a Teaneck, NJ resident for 18 years. She has been working at Yeshivat Noam for 14 years, spending the last 10 as a Kindergarten teacher. She enjoys spending her free time with her husband, Zev, and 3 sons, Ari, Eitan and Yonatan. Ilissa has been a Rishon division head for the past 3 summers and really enjoys seeing the smiling faces of her campers on a daily basis. Her favorite part of the camp week is Shabbat oneg on Fridays, where she can dance and sing with her campers as we get ready to usher in Shabbat!

My favorite Camp Shalom memory is having a concert with 8th Day, who broke out color war!
My secret skill is rhyming and creating poems and songs using the rhyming words!
If I wasn't an educator, I would be a pediatrician!
The one thing I can't deal with is bullying! It is never acceptable because each child has strengths that should be focussed on and no one has the right to try to diminish them!
An offbeat hobby of mine is photography. I love to take pictures of my family and nature!
What Camp Shalom means to me is a summer full of fun, camaraderie, achdut, sports, learning, trips and experiences that will last a lifetime!
---
Alyssa Needle
Sheini Girls Assistant Unit Head
Hi! My name is Alyssa Needle and I am the Sheini Girls Assistant Unit Head. I am definitely not new to Camp Shalom since I was here as a camper, CIT, and counselor for many years. I am from Passaic, NJ and I'm currently studying in Stern College for Women. I am looking forward to "traveling around the world" this summer and having an amazing time with Sheini Division.
---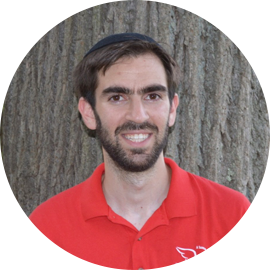 Azi Steiner
Sheini Boys Unit Head
In 1972, a crack commando unit was sent to prison by a military court for a crime they didn't commit. These men promptly escaped from a maximum-security stockade to the Los Angeles underground. Today, still wanted by the government, they survive as soldiers of fortune. If you have a problem... if no one else can help... and if you can find them... maybe you can hire... The A- Team. If not, you can always look for Azi Steiner who resides in Passaic, New Jersey with his wife Rivki and Daughters Esther and Shana.

Azi received a BS in Psychology from Lander College and Masters of Social Work from Fordham University. He served as a Social Work intern at Yeshiva of Central Queens and the Sinai schools before graduating and accepting the position of Senior Manager of Family Services for Ohel. In 2014 Azi joined the staff of Yavneh Academy as the Judaic Studies Inclusion Teacher for 4th and 6th Grade.

Azi brings with him over 15 years of experience in Jewish summer camps including serving as the first director of the popular teen program in Camp Nageela. He works to infuse the camp spirit to the weekly Shabbos groups at Tifereth Israel Passaic where he is currently in his 4th year as Youth Director. Azi also continues to volunteer for JEP for whom he has helped organize and attend Kiruv Shabbatons and Events for nearly 10 years. In his (limited) spare time, Azi enjoys playing the guitar and mandolin, chilling with his family, and reveling over the escapades of a mysterious individual known simply as "The Doctor."

An Interview with Azi
What is your favorite Camp Shalom memory?
It's a toss-up between the time I played a pirate in a historical reenactment of the great Color War battle of Ma-Tov Lake and the time I drove a real Ice Cream truck across the Chestnut Ridge Middle School Parking Lot.
What is your secret skill?
I have a near-encyclopedic knowledge of all Lego sets released in the late-80s to early-90s.
What would you be if you were not an educator?
I would be Bob Ross.
What's the one thing you can't deal with?
I can't stand when people use the tunes from Zmiros for Lecha Dodi. I mean, don't they know we're gonna sing the same song later at the meal?? There are so many other tunes to choose from!
Do you have any offbeat hobbies?
Rivki will tell you I have a lot but if I had to pick one, it would be attempting to sing Country and Irish Folk songs in Yiddish.
Finally, what does Camp Shalom mean to you?
It means "Camp Peace."
---
Avi Rothwachs
Assistant Boys Unit Head
Camp Shalom is excited to welcome back Avi Rothwachs as an Assistant Boys Unit Head.

Avi Rothwachs has been attending Camp Shalom since the age of three and has been with us almost every summer since. He attended Yeshivat Sha'alvim for two years and is looking forward to attending YU in the fall . He is very excited to be returning to Camp Shalom and can't wait for a fun packed summer!
---